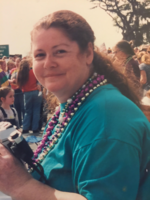 Linda Jamell
Linda Jane Jamell passed into the light on the morning of August 10th, with her soulmate Ollie by her side. She will be remembered as a fiery red-head with snapping brown eyes and an indomitable spirit.
Linda, affectingly known as "Red" or "L. J." was a master storyteller, gardener and chef. Her culinary skills can be attested to by those she welcomed to dine at her table. Linda's attention to detail was legendary, no matter the occasion. Her enchanting nature, artistic talent and thoughtfulness touched everyone that crossed her path. She also loved the blues and dancing.
She will be dearly missed by: her mom, Shirley Ann Kirk, husband, Ollie Jamell, daughter Angela Gauldin, and stepson Mark Jamell. She was preceded in death by her father, David Wildey Robers Jr, and brothers Samuel Wayne Roberts, and Jeppy Roberts. Also left to cherish her memory is Joanne Hodge, sister Cindy Ward, brother Dr. David Roberts as well as all of her nieces, nephews, godsons and countless lifelong friends.
Linda's life will be celebrated at a later date