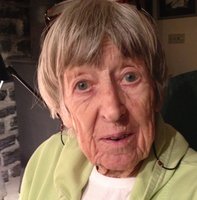 Esther Snyder
Esther Snyder died in January 2018 from Alzheimer's disease. Esther leaves behind a son Gregory, two grandchildren, Cadence and Connor Snyder, her former daughter-in-law Kim Snyder, and many friends.
Esther and her brother Paul were born in Oklahoma circa 1920 to German immigrants. Their father died when Esther and Paul were very young. As teenagers Esther and Paul accompanied their mother Julia as they returned to the family home in Germany. Upon seeing the rise of a dictatorship, they decided to return to the United States. In late August 1939, while attempting to board the German ocean liner Bremen they were stripped of every possession except the clothes on their backs and one suitcase. Nearly penniless, they disembarked in New York City a short time later, thankfully escaping the horrors of World War II in Europe. Esther, her brother and mother were forced by poverty to separate. Esther returned to Oklahoma to finish high school, and lived with a distant relative, Paul lived in a Masonic home for homeless children, and Julia went to work as a housekeeper, where she lived in the servant's quarters.
During World War II Esther hoped to become an air traffic controller but fortunately peace intervened. Paul joined the U. S. Army in 1944. After the war Esther married Marshall Snyder, a returning GI. Marshall became a hairstylist and together they opened four salons and a beauty school. They remained married for 18 years and had one child.
Esther's passion was real estate and she worked in the field for nearly 30 years. She enjoyed the last 20 years of her life in her beloved mountains of North Carolina with close friends, and valued and loving caregivers. She cherished membership in the Chestnut Grove Church, and time with her favorite cat Cleo. Esther remained very vital and vigorous until the very last years of her life. She cared for her brother Paul until his death in 2009, traveled in the US, and even flew to her 75th high school reunion in Oklahoma. Her love of life and resilience were an inspiration to others. Her favorite sayings, when times were hard, were to "keep on keeping on," and "light, love and peace."
A memorial service will be held at a later date in North Carolina. In lieu of flowers please consider a donation to a charity of your choice.