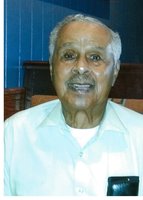 Joseph Sidney Walden
Joseph Sidney Walden, 96, died peacefully on May 27, 2017. He was a native of Georgia but spent the majority of his adult life in Detroit, MI. He is the son of the late Henry S. and Eva Walden. He was a U. S Army Veteran who served in World War III, was stationed in Guam. Shortly after the end of World War II he was offered a promotion but decided to return to his home in Detroit, MI. There he began a career in the auto industry as a mechanic. Eventually he gained employment with the U. S. Postal Service and retired as a supervisor at the age of 69. His retirement years were spent enjoying gardening and traveling the country with his beloved wife Sammie.
In 2008 Joseph and Sammy relocated to Chesapeake to be closer to their family. They found comfort in fellowship at Centerville Chapel A. M. E Church, where he served as a deacon and attended regularly until illness prevented him.
He was a loving husband to Sammie Lou Walden for 57 years until her death in December 2008, and he is predeceased by a sister Corine Dean-Hurbert
Joseph is survived by two sons; Mark S. Walden (Eli) of Chesapeake, and Michael L. Walden of Wisconsin. He will also be missed by his grandchildren: Markus, Micah and Jaiden, his Godchild Andrea Riverra of Maryland and a loving niece Joyce E. Woods of New York.
.