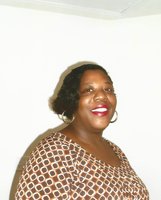 Salina Marie Moody
Salina M. Moody entered eternal rest on August 11, 2018 following a lengthy valiant battle with illness. Born on August 2, 1068 she he was a native of New York, although she was raised in Virginia. She is the widow of Roosevelt Darden. Salina worked as a caretaker for many years, she was devoted and compassionate to her patients.
Salina's devotion to her family was unmeasurable. She devoted much of her time to her beloved nieces and nephews whom she loved dearly. She had an unbreakable bond with her siblings, although she was the youngest, she constantly reminded them of such and was often heard saying, "I'm the baby".
Salina is survived by her loving mother Marie Etheridge, seven siblings: Juriel Rice (J. C), Diane Etheridge (James), Kenneth, Elliott, and Grace Moody, and Arlene and Bernard Etheridge (Farron).