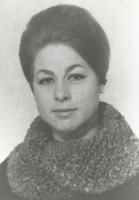 Jacinta Barrera Trawitzki
Jacinta Trawitzki, departed this life on August 18, 2018 in Virginia Beach. She was a native of Salamanca, Spain, was a hair model in her youth and is the widow of the late Paul Fredrick Trawitzki. Jacinta was a kind, compassionate, and empathetic woman. She accepted Christ at an early age and was a devout Catholic, may her soul rest in eternal peace.
A devoted wife, mother and homemaker, Jacinta married her soulmate who she followed through various overseas deployments before settling in Virginia Beach. She is survived by three sons; Nino DelArco and his wife Begonia of Spain, Paul Trawitzki III of Virginia Beach, and Mark Trawitzki and his wife Kristen of Yorktown. Also left cherishing her memory are two grandchildren, Kaila, and Mark Jr. and a host of devoted friends.