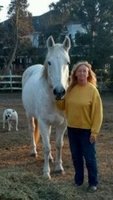 Karen Lindsay Hatch
Obituary for Karen L. Hatch
Karen L. Hatch was born May 22, 1947 in Saugerties, New York to the late Gordon and Margaret Keeley. She passed away at Sentara Virginia Beach General Hospital on March 23, 2019. She is survived by her son Derek, her sister Alison Harwell and nephews Erik and Michael Harwell.
Karen earned her B.A. degree in French from Ithaca College and her MSW from Virginia Commonwealth University. She retired from the City of Norfolk Child Protective Services department after 25 years of service. For the last 20 years she worked part time for the Virginia Beach Health department's Healthy Start program. Karen was committed to serving the needs of children and protecting their rights and safety. She was also a caregiver to a menagerie of animals including horses, dogs, cats, chickens and a peacock on her farm in Pungo.
Her family and friends will miss her encouragement, support, perseverance and tenacity. The family requests that people make a contribution in her honor to the animal rescue organization of their choice. A celebration of her life will be held at a later date.